Edward The Mad Shirt Grinder – The Beautiful Articulation of Nicky Hopkins
Cover of Beck-Ola
Nicky Hopkins is without question rock's greatest session musician. His signature contributions are still felt strongly today, 18 years after his passing. I continue being blown away by the breadth and depth of Nicky Hopkins piano contributions to rock.history
My first encounter with Nicky Hopkins's musicianship was with The Jeff Beck Group and Beck-Ola. I saw Nicky Hopkins play with The Jeff Beck Group at the Fillmore East on July 3, 1969. He is depicted performing with The Jeff Beck Group on the cover of this definitive book by Julian Dawson.
Nicky Hopkins got his recording start with Del Shannon. You can hear his piano virtuoso as a lad of 17 on the 1961 hit, "Runaway".  His frail health (he suffered from Crohn's disease) forced him into the life of a session musician, where he excelled.
Nicky Hopkins was known as the Sixth Stone. His body of work with the Rolling Stones is immeasurable, ranging from "Ruby Tuesday" to "Waiting On A Friend".
Nicky moved to Mill Valley, California to improve his health and took up with such San Francisco bands as The Jefferson Airplane and Jerry Garcia Band. He was considered a full-partner in Quicksilver Messenger Service and his touch played a fundamental role in Shady Grove and Just For Love.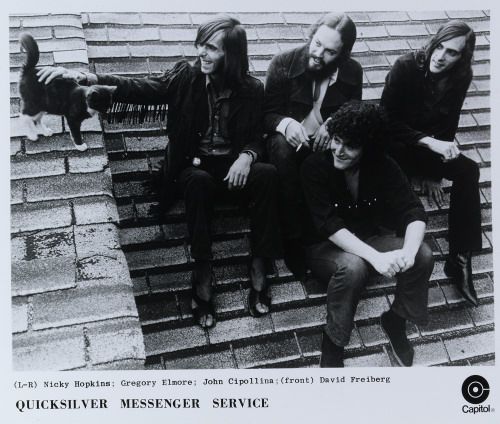 The musicians he worked with over the decades were very taken with him.
"It was such a thrill to work for him as well as have him work with me. Every time I hear Joe Cocker's 'You Are So Beautiful' I want to cry before Joe's even come in. People try to emulate that piano piece, but there's only one person could have played that—Nicky Hopkins."
– Peter Frampton

He worked with all four of the Beatles when they went solo. I am especially fond of his song, "Edward (The Mad Shirt Grinder)" that he recorded with QMS and on his best solo album, The Tin Man Was A Dreamer ( George Harrison, Mick Taylor, Klaus Voormann and Hopkins' fellow Rolling Stones sidemen Bobby Keys and Jim Price.)

Filed under: Music, Piano Tagged: Beck-Ola, Del Shannon, Fillmore East, Jeff Beck Group, Jefferson Airplane, Julian Dawson, Nicky Hopkins, Peter Frampton, postaday2012, Quicksilver Messenger Service, The Rolling Stones, tidal